Cash Aid for Climate Change Survivors
Send cash to families on the frontlines of climate change in Africa.

If we don't act, climate shocks are expected to push 130M people into extreme poverty in the next decade. The most direct way to help them adapt is to give them money. 
Latest Response
We're now delivering cash aid to Cyclone Freddy survivors in Malawi and Mozambique.
Giving cash helps those suffering most from a climate crisis they did not create.
The poorest communities are facing the catastrophic impacts of the climate crisis, even when they are least responsible for the emissions that created it.
The longest-lasting cyclone on record hit Malawi and Mozambique this month, wiping out homes and crops and displacing over half a million people.
Northern Kenya is currently suffering their worst drought this century.
In all these places, GiveDirectly is delivering money to impacted families living in poverty, allowing them to recover and build resilience to future disasters. You can send funds directly to those most impacted by climate change.
Money helps them recover from climate disasters.
Cash transfers reach families quickly and let them meet their own changing needs in a disaster – as opposed to receiving pre-determined aid or donated goods they are forced to sell or leave behind.
Giving survivors cash directly and unconditionally allows them to both meet their short-term needs (e.g. food, water, and medical needs) and rebuild their homes and businesses in the long-term. GiveDirectly has delivered rapid-response cash in the Bahamas, Kenya, Malawi, Mozambique, and Nigeria.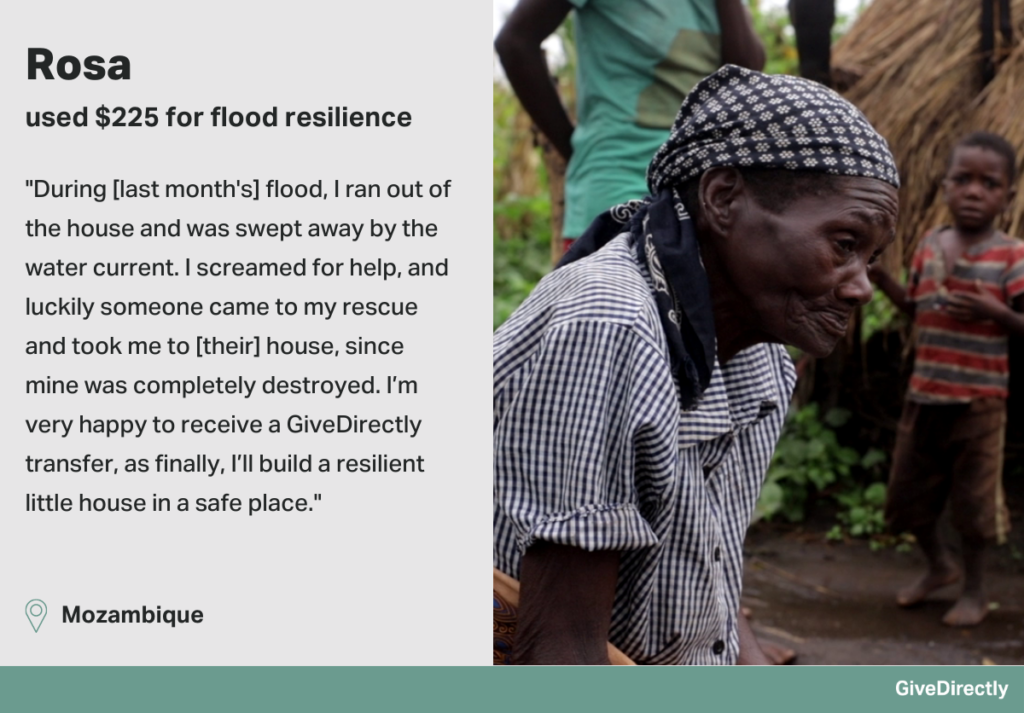 With cash, they can improve resilience to future shocks.
Poverty and cyclical climate shocks prevent families from building resilience; targeted payments encourage development during more stable periods.
In Uganda, our one-time $1,800 transfers let families move away from worsening mudslides.
In Malawi, two $400 transfers timed around the planting season allow farmers to adopt climate-smart farming practices.
In Mozambique, a $40 monthly basic income helps flood- and drought-affected communities build resilience. Research from Niger and Zambia found a multi-year basic income helps households weather climate shocks better than those who did not receive funds.
---
Frequently asked questions
+

Who is eligible to receive my donation?

Donations made through this page will be directed exclusively to recipients in non-U.S. climate response programs, both emergency relief for climate disasters and long-term climate resilience. More on what types of programs we run here.
+

How will my donation be delivered?

Funds are delivered directly to the recipient through mobile money technology for the vast majority of our programs. They receive the funds directly to a SIM card and are able to cash out at local agents safely and securely. 
+

How much money will people receive?

The transfer amount varies from program to program. Emergency relief transfers are smaller ($200-$500 range), whereas resilience-building transfers are larger ($800-$2000) and are sometimes broken down into monthly payments. 

While our efficiency varies from program to program, historically 90% of all GiveDirectly donations go directly to a person living in poverty, with the other 10% covering the cost of getting it there (more here).
+

What is GiveDirectly?

GiveDirectly is a nonprofit that lets donors send money directly to the world's poorest, no strings attached. We have delivered cash aid to 1.5M people across 13 countries, including crises and natural disaster responses.
+

Is my gift tax-deductible?

Yes, donations are tax-deductible in the United States. GiveDirectly is a registered 501(c)(3), and our U.S. federal EIN is 27-1661997.

We accept all major credit and debit cards, PayPal, checks, wires, stocks, cryptocurrencies, and more. Reach out to us at [email protected] for more information on ways to give.